Dungate Window & Sunroom Installation & Services
Dungate Windows and Sunrooms prides ourselves in offering superior products, affordable pricing, and expert installations.
Taking the time to understand your goal is our first step. We provide straightforward information, expert advice, along with attention to detail in the design process. Once the design is complete, we handle working with the building departments in obtaining permits, if needed.
All of our products come with extended Warranties .
For more information on our process, along with frequently asked questions please scroll down.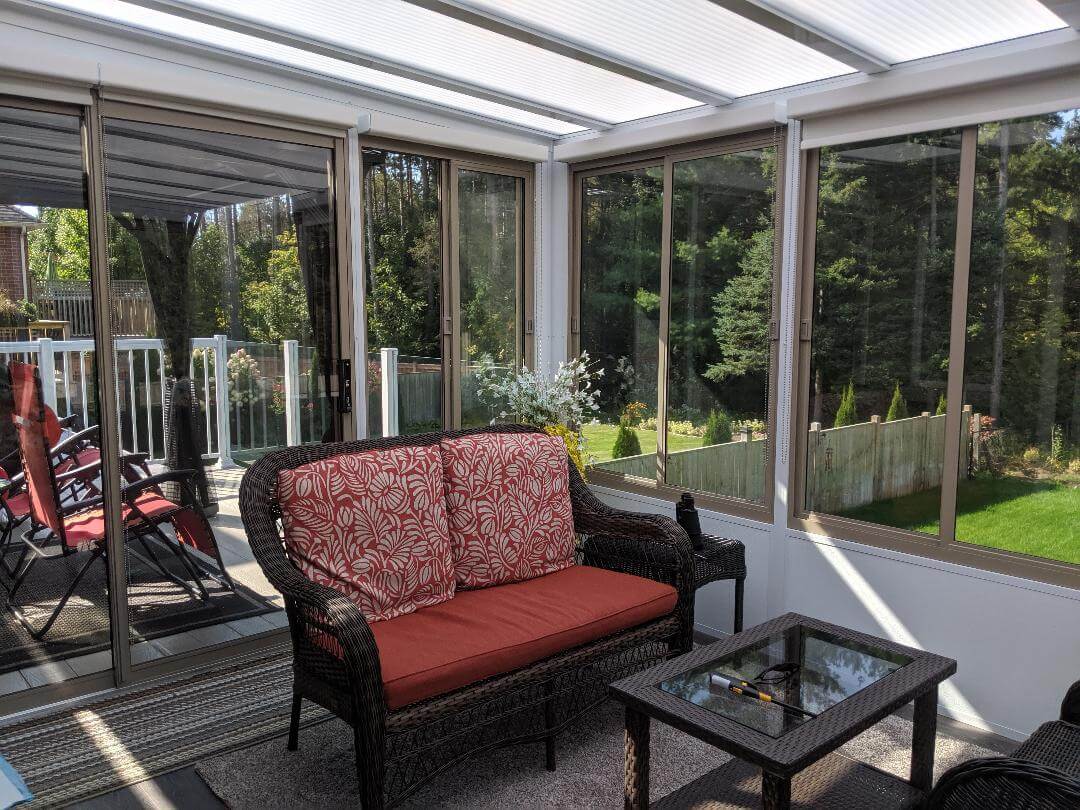 Expert Advice:
"What is it you are looking to accomplish?"
Taking the time to understand what your overall goal is, gives us the ability to recommend the best product. With the end goal in mind, we use our expertise to look at every detail in the planning process or obstacles that may come up to ensure a satisfied home owner and a smooth installation process.
Proven Products:
If we wouldn't put it in our own home, we would never supply it. Style, Safety, Durability, and Functionality are all considerations when we select our products. Our product selection is something we can proudly stand behind.
Expert Installation:
All of Dungate Windows and Sunrooms installers are highly skilled carpenters and take pride in their work. High quality workmanship, strong ethical values and the desire to do the best possible job for our customers is what we strive for. We treat your home like it is our home, with the utmost respect. We go above and beyond to ensure your satisfaction. During the installation we try to minimize mess and stress and make your renovation a positive experience
Expert Service:
Once the installation is complete, our job is not done.
Each product comes with an extensive warranty, and we ensure that any issues are fixed promptly, without hassle.
Support & FAQ
Have a question or need help with our products or services? You have come to the right place. Here you will find answers to frequently asked questions, and if what you are looking for is not available here please feel free to contact us, and we will make sure you get the info you need.
What is your service area?
Our service area is all of Simcoe County, and into Muskoka. Further regions are available depending on the order specifications. Please contact us for more details.
Do you supply WeatherMaster?
Dungate Windows and Sunrooms is an authorized Dealer of Sunspace Sunrooms. If you want us to supply and install we would be happy to come measure and give pricing for your project, and if you want to enclose your own porch area we can provide supply only prices for you, Just provide sizing and we can help from there.
Do you install doors?
Yes, we install doors. Visit our Services page to learn more about our expert installation, and what we can do for you.
Do you install doors?
Yes, we install doors. Visit our Services page to learn more about our expert installation, and what we can do for you.
Do you offer free estimates?
Yes! We offer FREE Estimates. We typically ask for a picture of your project to ensure our product will be a good match for your space & it is possible to do. Once we establish the job is possible, we are happy to give you a free estimate.
Building Permits
We have a great relationship with all local building departments. Over 22 years, Dungate has been obtaining building permits and is happy to take care of this process for you.
Do you sell your products supply only?
Yes, If you would like to do the installation yourself, and purchase supply only, please provide us with the sizes and styles you are looking for.
No Title
Thought I would drop you a line to let you know just how pleased we are with the door that was installed last week. The installer did an excellent job and was very tidy, and courteous. The door is so attractive. Friends have been complimenting us on how wonderful it looks. Again many thanks and if we need any more work done we will be in touch.
Ready to get started? Contact Dungate today